Product Description
Multifunction Diode Laser Pain Relief Physiotherapy Device

Product Description
Product Principle:
Pain relief laser equipment is a low level laser therapy (LLLT) device, also known as a soft laser.The laser's energy is used to penetrate the skin and stimulate the body's natural healing processes , by this way, every cell in the treatment area received the energy activate deep tissue repair , Laser irradiation can diminish inflammation to edema fluid, accelerate the activity of lymphocytes and the body's self-healing system,accelerate the secretion of analgesic substances, reduce the sensitivity of the peripheral nerve, thus for pain treatment.
808nm,

infrared laser can penetrate skin to

5-7 cm,

directly target the pain point in the deep area.
650nm,

Red laser can penetrate skin to

2-3 cm,

help to improve the blood circulation, anti-inflammatory the surrounding area of the pain point.
So

808nm + 650 nm

together will have better curative effect for

body pain relief.
Feature
100% Safe and Painless and Effective
Security and stability of home laser as well as the exact effect of medical laser. The treatment process is painless and harmless, non-invasive, no trauma. Laser therapy delivers non-thermal (non-heat) photons of light to the body to help heal injured cells.
Low-Level Cold Laser Therapy
A perfect combination of medical laser 808nm and home laser 650nm will have better curative effect for body pain relief.
Cold Laser Therapy Advantages
Proven results for pain relief, inflammation, soft tissue, and skin injury therapy.
Multifunctional, Portable, and Rechargeable
Suitable for both Professional, Personal and Animal use; Pets, Dogs Horses. Total maximum power 955 mW.
Can be used for:
Knee, Feet, Ankle, Shoulder, Back, Elbow, Hand, Joint & Muscle...etc
Arthritis
Tennis Elbow
Tailbone Inflammation
Athletics System Injuries
Soft Tissue Injuries
Sports Injuries & Sprain
Wound & Ulcer Acupuncture
| | |
| --- | --- |
| | |
| | |
| | |
| Instrument classification | |
| | |
| | |
| | |
| | |
| | 1 laser diodes with 808nm |
| | 11 laser beams with 650nm and 4 laser beams with 808nm |
| | Probe A is 180mW and Probe B is 775mW |
| | 10-60 minutes and 6 grades adjustable |
| | |
| | |
| | |
| | |
| | |
| | |
| | |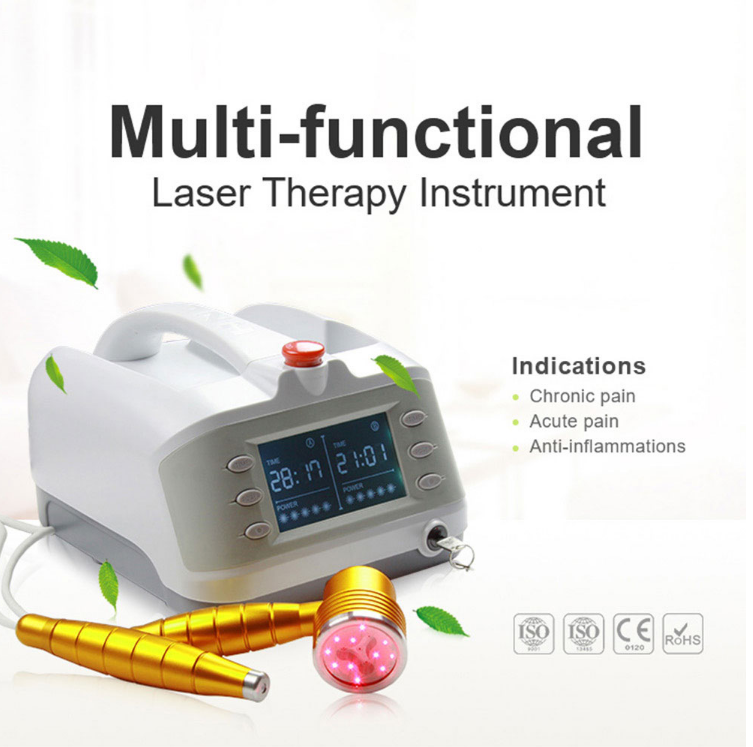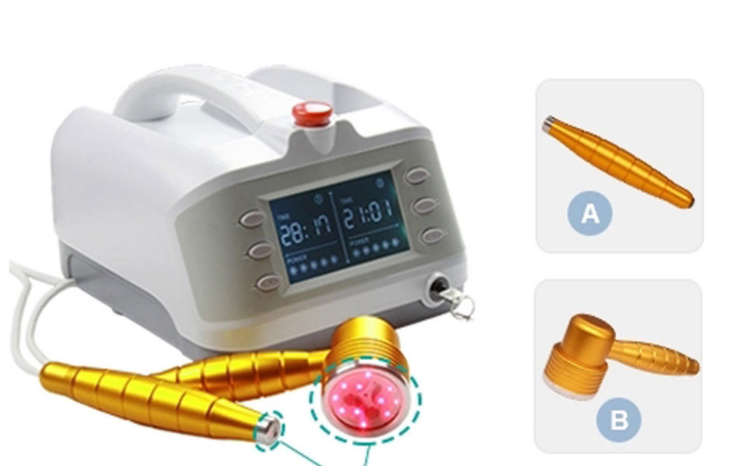 Used by high quality imported laser diode which has the long life-span and stable performance.
Probe A
Probe A is used as the laser acupuncture to irradiate the small area for acupoint stimulation, anti-inflammatory and reduce swelling edema.
Probe B
Probe B is used to irradiate the parts like bone joint, muscle, ligament, neck and back for pain relief, tissue repair and rehabilitation.Used by high quality imported laser diode which has the long life-span and stable performance.
Low level lasers are a group of lasers with a power less than 500 mW and unlike high-power lasers they have no effect on tissue temperature.
Low level lasers produce light-dependent chemical reactions in tissues to relieve the pain. It nearly eliminates pain and inflammation, restores normal body function without using painkillers.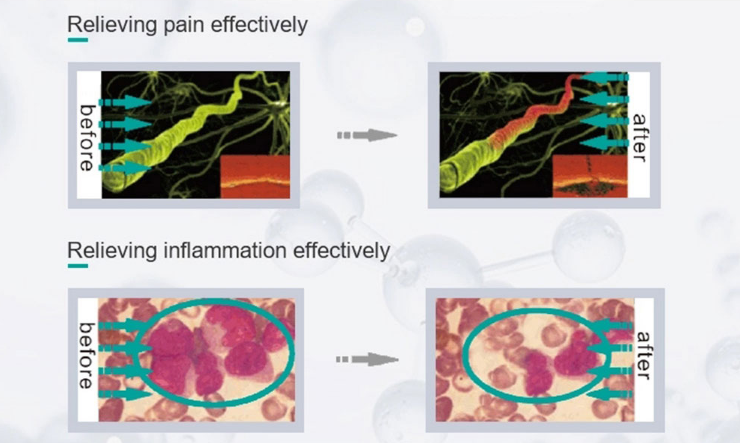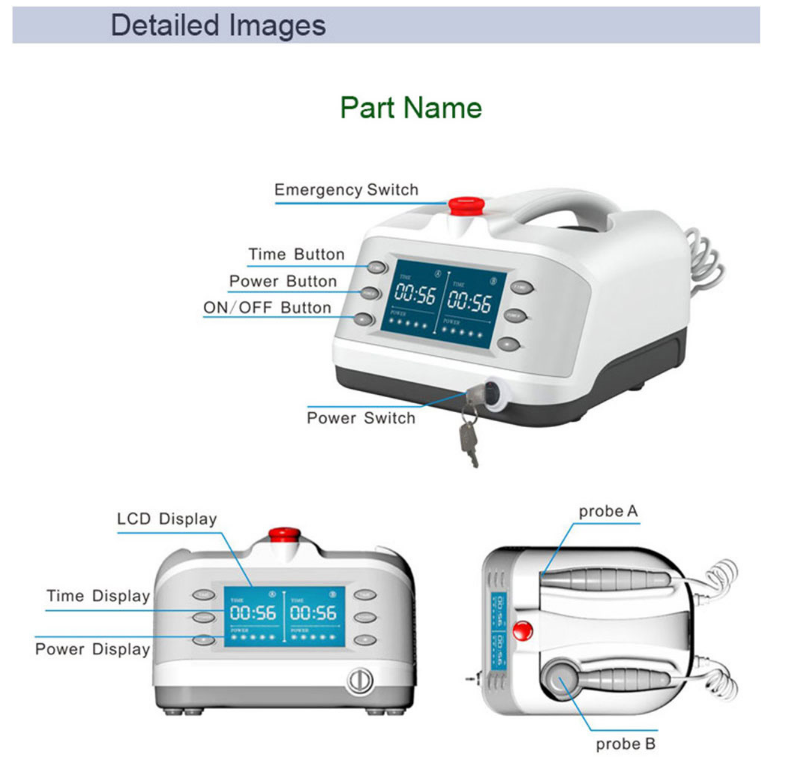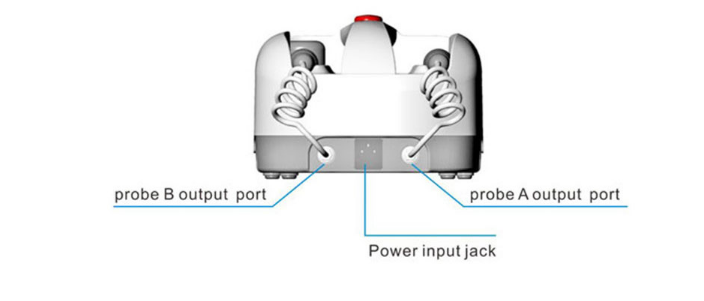 Application scenario

Chronic pain like knee arthritis Frozen shoulder
Acute pain like joint issues Athletic system injury
Anti-inflammations Wound healing and laser acupuncture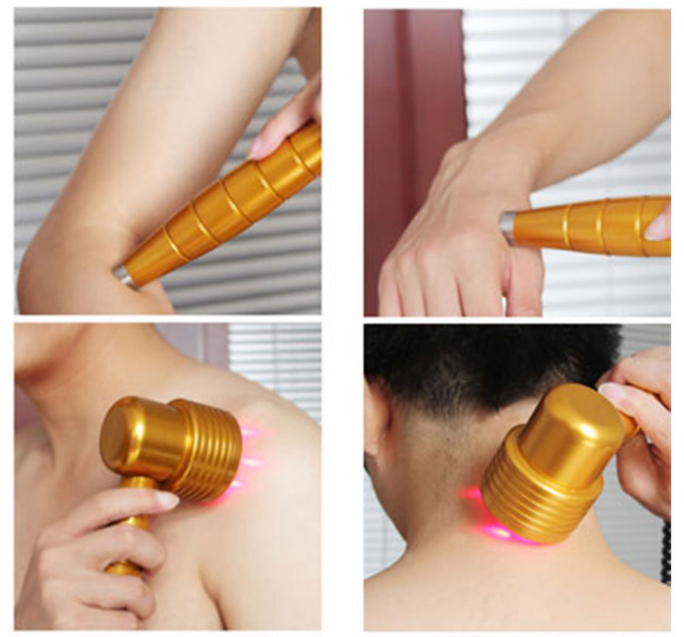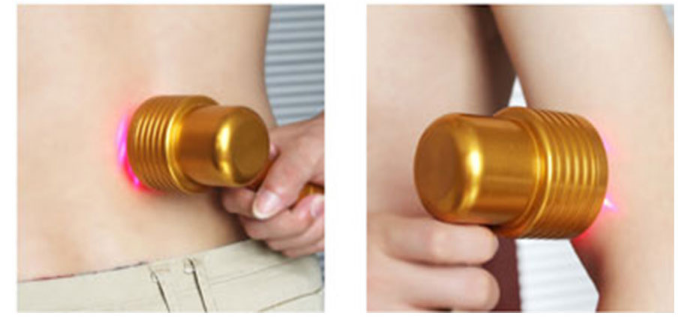 Feature
5 Characteristics
High Definition Screen
Say goodbye to reading troubles and improve reading clarity.
Dual Metal Probes
Perfect combination of medical laser 808nm and home laser 650nm.
Time Setting
Time setting10-60 minutes and 6 grades adjustable.
Zoned Control
Devide the panel into two parts to control probe A and probe B seperately.
Double-safty Facilities
Use the start-up key and emergency button for safety.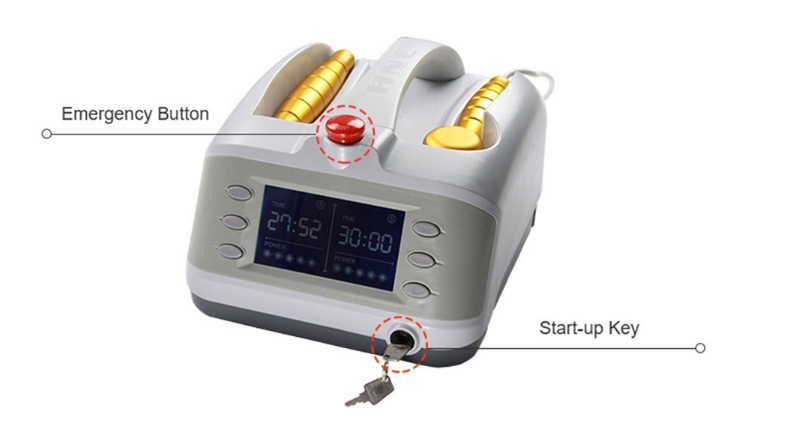 Product acessories
Packing & Delivery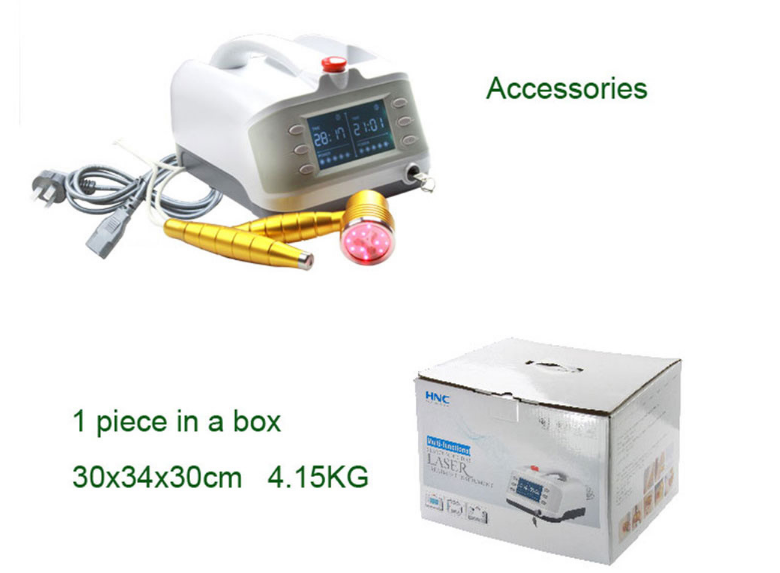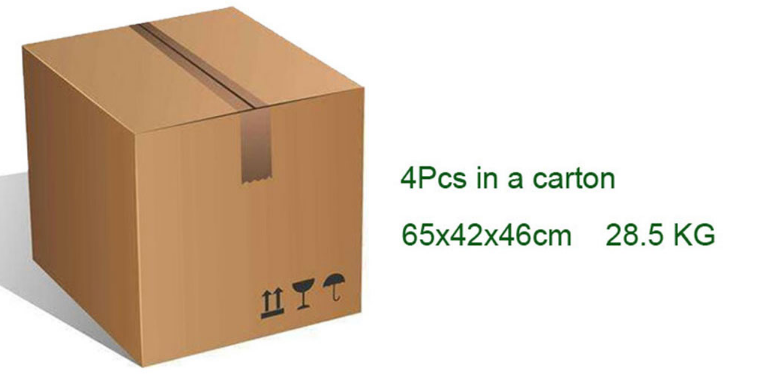 Company Profile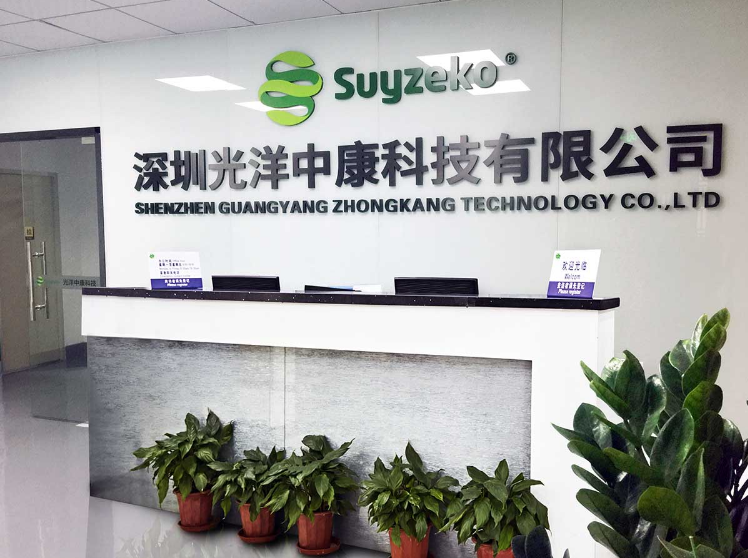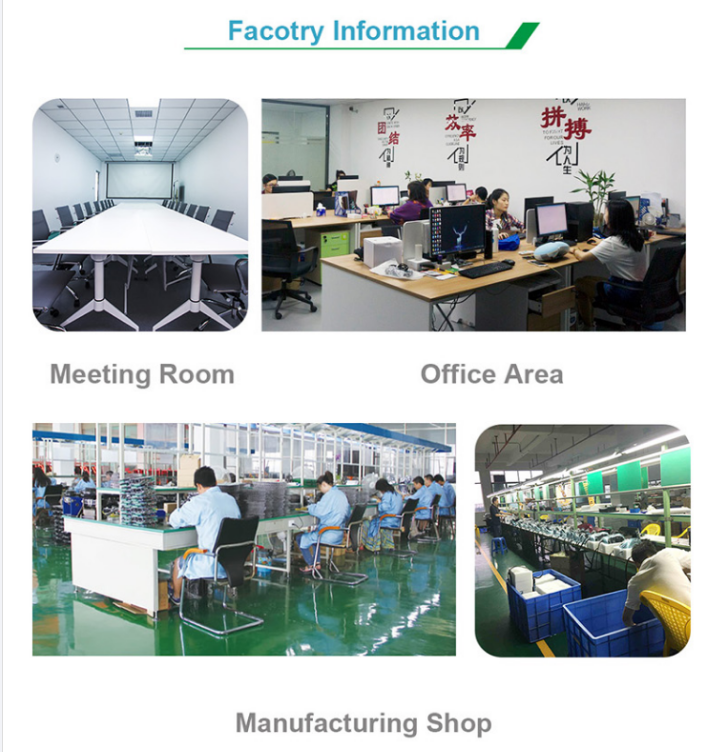 Founded in 2013, Shenzhen Guangyang Zhongkang Technology Co., Ltd. is a high-tech enterprise specializing in the research, development, production and sales of medical health care products. The company's main products are light therapy, healthcare diagnose device, Beauty Machine and Others. Light therapy including laser therapy watch, photobiomodulation brain therapy helmet, red light therapy bed,nasal laser therapy device; Healthcare diagnose device including metatron hunter 4025, 8D nls, quantum analyzer and PET quantum analyzer, iriscope/iridology camera; Beauty machine include skin analyzer, foot SPA detox, colon detox, facail PDT light therapy machine; others such as neck massager, knee massager, infrared belt...After five years of rapid development, it has become a leader in the laser treatment industry. Through continuous innovation and quality pursuit, the company enjoys a good reputation in the domestic and international healthcare market.
Shenzhen Guangyang Zhongkang Technology Co., Ltd. has a number of patents. With its top R&D team and strong technical force, the Laser Treatment Instrument independently researched and developed over the years has won wide range of domestic and foreign customers with its high quality and non-invasive treatment characteristics. Attention and recognition. The company's medical CE certificate and medical device sales certificate are being applied to ensure that customers are provided with high-quality, high-standard products and perfect professional services.
FAQ
1. who are we?
We are based in Guangdong, China, start from 2013,sell to Western Europe(70.00%),North America(20.00%),Eastern Europe(6.00%),South America(4.00%). There are total about 11-50 people in our office.
2. how can we guarantee quality?
Always a pre-production sample before mass production;
Always final Inspection before shipment;
3.what can you buy from us?
Red Light Therapy Bed,Infrared Helmet,Infrared LED Heating Pad,Wrist Laser Watch,Shock Wave Healing Device
4. why should you buy from us not from other suppliers?
we have been manufacuring iriscope since 2000, and we have more than 13 years experience in Developing and researching laser therapy device are in best quality, Laser therapy machine. and we have provide our goods to lots of trading company here
5. what services can we provide?
Accepted Delivery Terms: FOB,CFR,CIF,EXW,FAS,CIP,FCA,CPT,DEQ,DDP,DDU,Express Delivery,DAF,DES;
Accepted Payment Currency:USD,EUR,JPY,CAD,AUD,HKD,GBP,CNY,CHF;
Accepted Payment Type: T/T,L/C,D/P D/A,MoneyGram,Credit Card,PayPal,Western Union,Cash,Escrow;
Language Spoken:English,Chinese,Spanish,Japanese,Portuguese,German,Arabic,French,Russian,Korean,Hindi,Italian